6 Kindle Predictions for 2011
1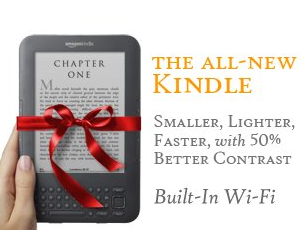 The year 2010 has been a quite successful one for Amazon. The company has sold millions of Kindle units just in the past quarter. It is expected to sell even more as people become more open to the idea of ditching paper books for e-books. Amazon Kindle will be pushed hard by devices such as iPad 2 in 2011. Considering all the momentum that this platform has at this point, Kindle is expected to remain relevant for the foreseeable future. While it is tough to predict what Amazon will do with this platform in 2011, here are 6 things we would not put past it:
$99 Kindles: 2 years ago, we predicted that one day Kindles would be offered to Amazon customers for free (with a plan). We are not there yet. But the idea of $99 Kindles is not too difficult to imagine at this point. Kindle 3 WiFi is only $139. If Amazon has learned anything about Kindle this year is that people do not want to pay a fortune for their e-reader. Offering Kindle 4 for under $100 should give Amazon yet another boost:
A different Kindle DX: Amazon had high hopes for Kindle DX upon its launch. The device has not hit it off with college students and educators yet. Amazon needs to take a page or two from Kno tablet's playbook to change Kindle DX's fortunes.
More sophisticated Kindle App Store: Kindle apps have been a big disappointment so far. Yes, games are fun to play on Kindle. But that is not what a lot of us had in mind when Amazon announced its exciting KDK platform. We expect the platform to become more sophisticated in 2011.
Amazon & Android: Amazon will be soon starting its own Android app market. An Android e-book reader (tablet) should not be too far behind. Amazon may be more interested in selling e-books than hardware per se, but it won't sit around and concede marketshare to tablets such as Nook Color.
Embracing Social/local networks: these days Amazon is much more Facebook and Twitter friendly than in the past. We expect services such as Foursquare to make their way to Amazon Kindle.
E-books on Demand: I have been predicting this for a couple of years now. 2 years ago, people were not too enthusiastic about the idea of ditching paper-books for their digital counterparts. The industry does have the momentum it needs at this point to handle such a business model. Many Kindle owners complain about e-books being too expensive. Such a business model should help.
What are your predictions for 2011?
Disclaimer:
Our articles may contain affiliate links. Please read our disclaimer on how we fund this site. As an Amazon Associate, we earn from qualifying purchases.