HarperCollins Puts 26 Cap on Ebook Lending
0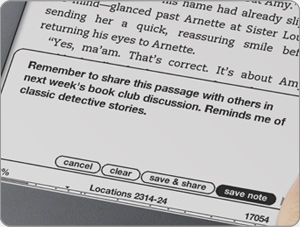 E-books are on the rise. With devices such as iPad 2, Xoom, and Kindle becoming more popular, more people feel comfortable dropping paper books for e-books. Unfortunately, that is not great news for publishing houses who rely on paper book sales to improve their bottom-lines. Publishers such as HarperCollins do want people to pay up for books eventually, which is why HC is limiting the number of times e-books can be borrowed in libraries. The magic number for e-book lending cap? 26!
It is not clear how HarperCollins came up with that number, but as the above video demonstrates, paper books last longer than 26 loans. HarperCollins/Overdrive intend to go ahead with their plan and possibly bring it to the British libraries as well:
OverDrive will communicate a licensing change from a publisher that, while still operating under the one-copy/one-user model, will include a checkout limit for each eBook licensed. Under this publisher's requirement, for every new eBook licensed, the library (and the OverDrive platform) will make the eBook available to one customer at a time until the total number of permitted checkouts is reached.
Steve Potash, CEO of Overdrive, addressed some of the concerns that publishers have about e-books:
several trade publishers are re-evaluating eBook licensing terms for library lending services. Publishers are expressing concern and debating their digital future where a single eBook license to a library may never expire, never wear out, and never need replacement.
Some libraries are planning boycotts to fight back against these new policies. Some have called these policies backwards. I believe this is a move forward for the e-book industry. While I don't agree with the move made by HarperCollins, there is no question these issues need to be raised and dealt appropriately by the "market" for the industry to move forward. The same concept applies to e-book price hikes. These publishers won't try these approaches if the market does not let them get away with them. It will be interesting to see whether HarperCollins backtracks on this new policy.
Disclaimer:
Our articles may contain affiliate links. Please read our disclaimer on how we fund this site. As an Amazon Associate, we earn from qualifying purchases.