Booktango: DIY e-Book Publishing Service
0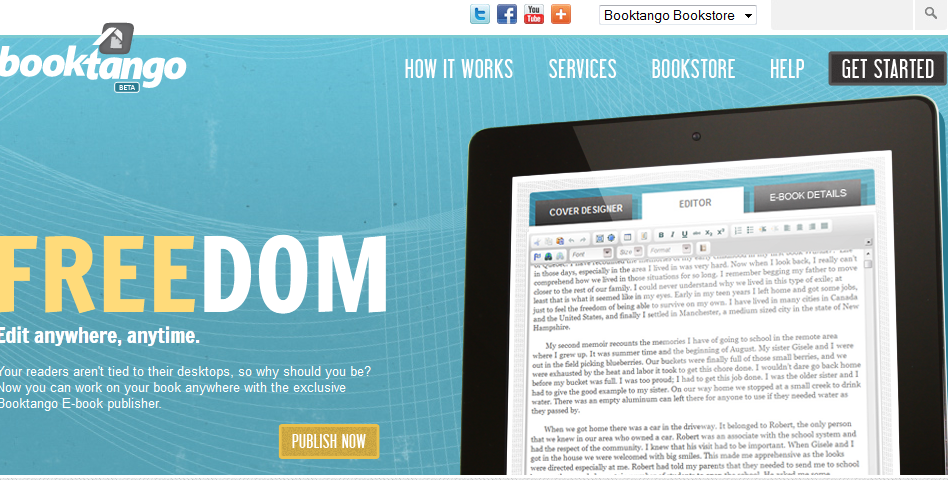 As the adoption rate for e-book increases, more authors are getting involved in this industry. Thankfully, there are a number of useful tools available to them to get their work to e-book stores fast. Booktango by Author Solutions aims to make life easier for authors. All one has to do is upload a book and cover and prepare it for sale on the Kindle, NOOK, and other e-readers.
As the world leader in indie book publishing, we have helped more than 140,000 authors bring over 170,000 books to market …. That experience makes us uniquely qualified to enter the DIY e-book publishing space because we understand better than anyone what's important to authors. Making our service free and easy to use while offering the best distribution and royalty structure in the business is just another way we are helping to make it the best time in history to be an author.
said Kevin Weiss, CEO of Author Solutions, Inc. The service provides authors with a tablet-based editing suite to help them with the preparation process. Authors get to sell their books through Booktango and receive 100% of the royalties. Selling through other stores is supported (Amazon, B&N, and Kobo) but will only get authors 90% of the proceedings.
This service is offered for "free." It includes editing, cover design, and ISBN assignment. The company track sales and offers royalties based on net sale. Premium plans are also available through Booktango. Of course, the service is not completely free. There are retailing and other fees authors should get themselves familiar with. Booktango is not a unique service by any means. But it does have the potential to make life easier for independent authors.
Disclaimer:
Our articles may contain affiliate links. Please read our disclaimer on how we fund this site. As an Amazon Associate, we earn from qualifying purchases.