Top 8 Fashionable Kindle 2 Cases
0
by Cyrus
— 8 May, 2010
So you want your Kindle 2 to stand out in a crowd? Maybe you just want to spoil your device and dress it up with a super looking protective case. Whatever the case, there are plenty of good looking Kindle 2 cases available on the market. These cases are not designed to give you a good bang for your buck. They are for those who follow everything fashion passionately. If you are looking for such cases, here are 8 fashionable, super Kindle 2 cases you should check out: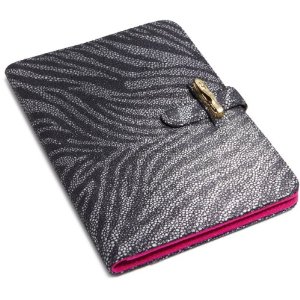 Diane von Furstenberg Kallie Leather Clutch for Kindle: one of the most fashionable (and expensive I might add) Kindle 2 cases on the market. The exterior is made of premium quality leather (with zebra printing). The beet pink, ultra-suede interior keeps your Kindle safe. You also have room for business cards and notes.
Genuine Alligator Leather Cover Case: if you are a fan of croc or alligator cases, this one is for you. This case is handmade and quite solid (very unique as well).
Cole Haan Hand-Woven Patent Leather Kindle Cover: has hand-stained, hand woven leather exterior and goatsuede interior. You can carry your business card with it as well.
Diane von Furstenberg Kasi Canvas Clutch for Kindle: designed by Diane von Furstenberg (just like the first item on this list). It has space for your business cards and utilizes a hinge system to keep your Kindle safe and sound when you are on the move.
OCTO Vintage Leather Kindle 2 Book Cover: an attractive case that gives you the good old feeling of reading a real book. It folds all the way back to make your reading experience more convenient. It's pretty slim too.
M-Edge Icon Crocodile-embossed Patent Leather Kindle Jacket: a more affordable croc case for Kindle 2. It is compatible with M-Edges e-Luminator2 Kindle light.
Halsea for M-Edge Kindle Jacket: you can think of it as a M-Edge Jacket on steroids. It comes in multiple styles and provide your Kindle with decent protection.
Incipio Xenon Kindle Case with Reading Light: may not be the best looking case on this list. But it's quite slim and has its own reading light.
Any suggestions?
Disclaimer:
Our articles may contain affiliate links. Please read our disclaimer on how we fund this site. As an Amazon Associate, we earn from qualifying purchases.