The E-Reader Market Primed For Explosive Growth
0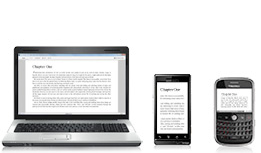 There was a time when Sony was the king of e-reader makers and not too many people cared for e-book readers. At the time, e-readers were considered too expensive and not decent alternatives to books. Amazon managed to change all that with Amazon Kindle. In a matter of couple of years, the industry has grown dramatically. E-readers have gone from niche devices to mainstream products that are highly in demand for the holiday season.
E-readers are getting challenged by tablets these days, but this market is expect to grow exponentially in the next couple of years. A report by ABI Research suggests that e-reader sales could reach 30M in units by 2013, double the number of sales predicted for this market in 2012.
It has been in the United States that the most content has been translated to digital form. The companies that provide the devices also maintain tightly-integrated content stores that make access easy… The device brand isn't as important as the content: success will increasingly depend on the strength of the relationship between reader and content provider. Non-US markets will be less driven by booksellers, and more by publishers and perhaps even network operators.
This is more about e-books than e-book readers. E-book readers are just tools that are driving the growth of the e-book industry at this point. Google and Amazon are already touting their cloud-based e-books. E-book shoppers will expect to have the ability to consume their content on as many devices as possible. Let's hope companies such as Amazon, B&N, and Apple find more ways to offer e-books for less to their customers.
In your opinion, who will win the e-book wars? Google, Amazon, or Apple?
Disclaimer:
Our articles may contain affiliate links. Please read our disclaimer on how we fund this site. As an Amazon Associate, we earn from qualifying purchases.