Speck Products DustJacket Protective Kindle Cover Review
0
If you own an Amazon Kindle 2, you know how fragile the device can be. It's not exactly made of glass, but if you drop your device or are rough with it, you can seriously damage your Kindle. Let's not forget about scratches either. One does not have to be too rough on a Kindle to put a scratch on it. That's why owning a decent protective case is a must. After all, everybody wants  to protect his/her investment and lengthen life if possible.
Speck Products DustJacket Protective Cover is an exciting Kindle 2 accessory that not only protects your device against minor accidents and scratches, but it also acts as a vertical stand for your device, giving you the ability to read on your Kindle without having to hold it in your hands.
There are essentially two sides to this accessory. The case itself is very solid. Unlike some of the soft cases on the market, this case comes with a padded exterior to provide maximum support for your Kindle. The interior is solid as well. DustJacket comes with a cradle that holds your Kindle in place. The holder is solid enough to give you  peace of mind when you are on the move. The part that covers your screen and Kindle's body is soft and does not put scratches on your device.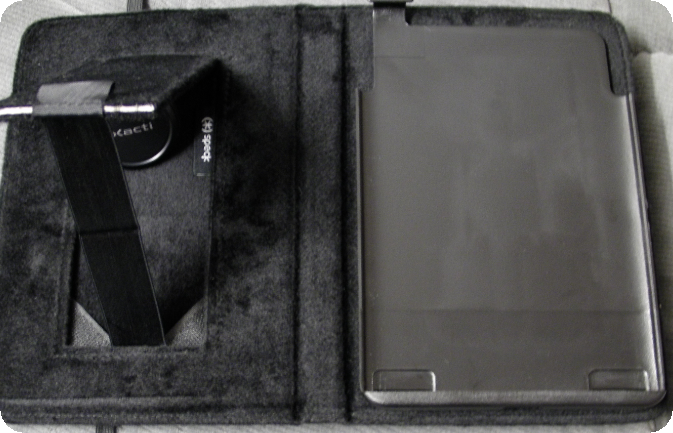 If you turn over your case all the way back, you can set it up as a vertical stand for your e-reader. Very handy feature if you like reading on your Kindle during breakfast and lunch (or leave your Kindle on your desk) and don't want to hold the device with your hands.
Take a look at the above image. It's essentially the bottom of this case. As you can see, the case is designed in a way that allows you to use your device and charge it when it's inside the case. So you don't have to take your Kindle out every other minute.
Overall, Speck Products DustJacket Protective Cover is a very solid hybrid case for Amazon Kindle. It not only saves you money, it's also solid enough to protect your Kindle on the road. The review unit that we received was in black, which is perfect for business meetings. There is a red version that you can go with as well. The case does add a little bulk to Kindle, but at least you know your device is protected against minor accidents. DustJacket is pretty affordable too (about $35). A good choice for those shopping around for a new Kindle case.
Disclaimer:
Our articles may contain affiliate links. Please read our disclaimer on how we fund this site. As an Amazon Associate, we earn from qualifying purchases.