Kindle Is Tracking Your Content. Does It Matter?
0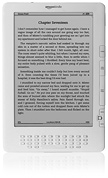 Amazon may be one of the best companies around, but that does not mean it does not make mistakes. We all remember the controversy that it caused by removing a few books from its customers' Kindle units without giving them the heads up. That move certainly eroded some of the trust Amazon had gained with Kindle owners. Is the company make yet another mistake by keeping track of passages highlighted by Kindle owners?
The introduction of "Popular Highlights" feature will help Kindle owners find more useful content to consume. So there is a positive side to it. But it is a bit disheartening to see Amazon's lack of respect for its customers' privacy. Sure. Amazon will not publish who has highlighted what. Howeve,r as CSM put it (see the above link), it is creepy to know that someone can keep track of every little thing you highlight on your e-reader.
Let's face it. Would you highlight controversial passages in a book if you knew someone was watching you? There are all kinds of crazy books on the market, and you can be sure that each of them has its exclusive fans. Would those people read and highlight passages in those non-mainstream books on their Kindle now that Amazon is spying on them?
Unfortunately, large companies are not out there to protect anyone's privacy these days. When a company such as Facebook shows such a disregard for its users' privacy, can we truly expect Amazon to do anything different? It's almost becoming a trend with all these companies.
Let's not be paranoid here. Amazon does not have bad intentions here. On the surface, "Public Highlights" could be useful. But it should be up to customers to decide whether they want to participate (and to what degree). This is not as bad as Amazon removing books from some Kindles without the owners' consent. But it does set a bad precedent.
Disclaimer:
Our articles may contain affiliate links. Please read our disclaimer on how we fund this site. As an Amazon Associate, we earn from qualifying purchases.