NOOKColor Hacked To Run Android 2.2.1
0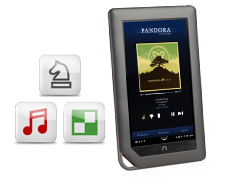 There are many good reasons to pick up a NOOKcolor. It has a color screen and is a pretty solid tablet all around. Hack it to run Android 2.2.1 and Android apps, and the device suddenly becomes a whole lot more tempting. Considering that NOOKColor has an 800MHz processor, 512MB of RAM and a 1024 x 600 pixel capacitive touchscreen, it would not be such a bad tablet when hacked.
As you can see in the above video, there is more to NOOKcolor that what B&N offers at this point. Android is going places. B&N made a great decision launching NOOK platform using Android. Unfortunately for B&N, Amazon may be getting involved in the Android business soon. B&N claims to own 20% of the e-book market. It is tough to see how it can cut into Amazon's marketshare with its current products.
Disclaimer:
Our articles may contain affiliate links. Please read our disclaimer on how we fund this site. As an Amazon Associate, we earn from qualifying purchases.