Nook Color Now Supports Autographs
0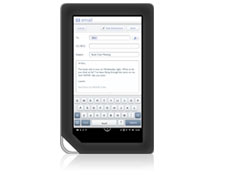 One of the main disadvantages of owning e-books instead of paper books is the fact that you can't get them autographed. A short while ago, we reported on a cool service that allows Kindle owners to get their e-books signed by their favorite authors without having to invest in the physical version of their books. Nook Color will now be supporting that feature as well.
B&N's Nook Color is one of the most popular tablets on the market today. It is not as sophisticated as XOOM but it is affordable and can work well as an affordable tablet. B&N's latest update for Nook has brought apps and Flash to the device, giving Nook owners the chance to get even more out of their devices. B&N's app store will start for around 125 apps but the list is expected to grow in the near future.
The update adds e-mail, more social features, and games such as Angry Birds to Nook Color. The update process is simple:
The software update will be automatically downloaded to devices that are registered and connected to Wi-Fi®, beginning the week of April 25 and over the coming weeks. There's no need for you to take any action.
So Nook Color can now be officially called an Android tablet and is less limited than before. It is expected to stay popular until Amazon enters the market with its own tablet.
Disclaimer:
Our articles may contain affiliate links. Please read our disclaimer on how we fund this site. As an Amazon Associate, we earn from qualifying purchases.