Kindle DX WiFi: The True iPad Challenger?
0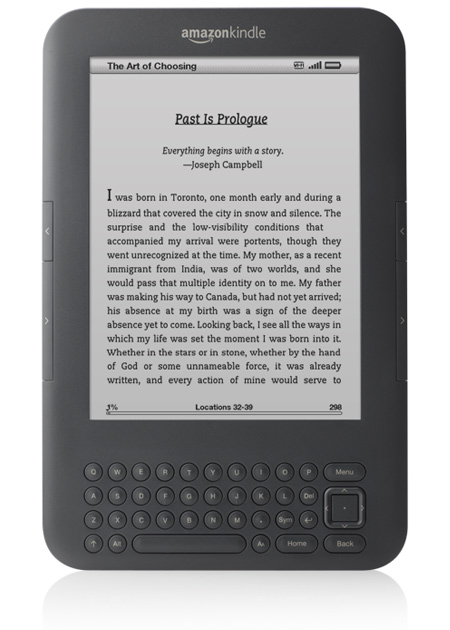 The release of Kindle 3 has given Kindle fans a lot to be happy about (even though we find the device to be disappointing on paper). Instead of trying to innovate and look for outside-the-box ideas, Amazon has decided to choose a conservative approach with its Kindle family of products. The new Kindles may not have too many bells and whistles like the iPad and some of those upcoming Android tablets, but they do aim to offer a better reading experience to e-book fans.
One can't always fight fire with fire, and that's what Amazon seems to have realized at this point. Jeff Bezos has talked about his company's inability to manufacture a color-screen Kindle that meets his high standards. Those who have listened to the man should have already known what he had in mind for Kindle family months ago. Amazon is focusing on price and Kindle reading experience for now instead of trying to out-Apple Apple. That's a very smart strategy, considering that Amazon's competitors such as B&N and Borders are going to make even more price cuts just to compete with Amazon. But why hasn't the company released a Kindle DX WiFi yet?
Kindle DX WiFi seems like a very logical move for Amazon at this point. Now that Kindle 3's prices are well under $200, Amazon does have the flexibility to offer Kindle DX WiFi for under $300 and see how it'd fare against Apple iPad among e-book addicts and business professionals. The iPad may have lots of bells and whistles, but a lot of those just don't appeal to the Kindle crowd.
Can Kindle DX possibly dethrone Apple iPad? That is hard to say. Apple iPad has a lot going for it. The good news is Amazon can always compete with Apple over price. Apple is not in the business of making $200-300 gadgets. The Kindle family is missing one last piece. It is likely Amazon will wait for the holidays or a special occasion to introduce Kindle DX WiFi. It's a matter of when at this point.
Disclaimer:
Our articles may contain affiliate links. Please read our disclaimer on how we fund this site. As an Amazon Associate, we earn from qualifying purchases.