Is iPad The new King of E-Readers?
1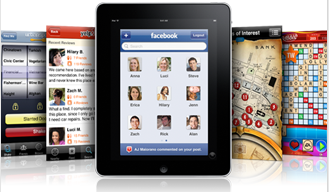 It has taken all but less than a few hours for experts to come out and crown the iPad as the best gadget in the history of mankind. Some of course have taken the chance to bash iPad for what it is not, which is fair as well. The iPad is intriguing in more ways than one. It can be used to watch videos, view newspapers, manage social networking accounts, navigate on the go, and even read e-books. So it's not a one trick pony device by any means. The price is obviously very tempting as well. It's actually priced lower than Plastic Logic. But is iPad the e-book reader we have all been waiting for?
There is no doubt that the iPad is a very shiny gadget that is capable of many great things. The fact that you can run thousands of apps on it already is a huge plus. The battery life is decent enough, though it could be much better. The device does not use E-ink technology, so reading on it is really going to feel like reading on a monitor or a laptop screen. While it's admirable that Apple has been working on bringing publishers to its platform, Apple is still not Amazon. Of course, it'd be interesting to see if Amazon allows Kindle app on iPad.
At the end of the day, the iPad is not really designed to be just an e-book reader. So it'd be tough to consider it the best e-book reader on the market. It will certainly make its run against top e-book readers on the market and will most likely take market-share away from the top guns. Those who are just looking for an e-book reader and won't be needing some of the more fancy features of iPad are probably better off with a Kindle or a Nook. iPad's focus is more on entertainment than reading. Besides, Kindle 3 is just around the corner, so let's not write Amazon off before we see what it has to offer with its new device.
My hunch is the iPad will influence the e-book reader makers heavily. They will respond with better devices (including color screen readers). The iPad has raised the bar high. It's now time for top e-reader makers to respond.
Disclaimer:
Our articles may contain affiliate links. Please read our disclaimer on how we fund this site. As an Amazon Associate, we earn from qualifying purchases.