Hack Nook with GlowLight with GlowNooter
0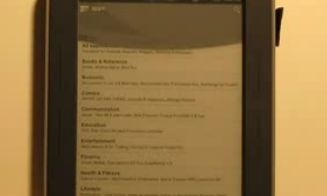 NOOK devices are known for being easily hackable. If you do not mind experimenting with your e-book reader, you can use some of the hacks already available to run newer, modified versions of Android on your device. The XDA community has come up with yet another way for NOOK users to hack their devices. GlowNooter is what you need to hack your NOOK with GlowLight device and run Google Apps on it.
The folks at The Ebook Reader have already produced a video that shows how this hack works. Full instructions for GlowNooter are included on XDA. The tool installs NOOK Color tools, Google Apps, Busybox, Amazon Marketplace, and a whole lot more on your device. In order to get started, you need to have a registered NOOK with an active Gmail account. The instructions are clear but skipping steps is not recommended.
Should you hack your NOOK with GlowLight? Not if you do not have the heart to do some experimenting nor have a need for Google Apps or Amazon Marketplace. The good news is the new NOOK is pretty cheap so you won't be risking much.