Digg Reader Launches, iOS App Debuts
0
Digg Reader is finally here. With Google Reader dying in a few days, many of its users are still looking to find a replacement for it. AOL Reader is already out but has a long way to go. Digg Reader is launching this week too:
Just moments ago we sent out the first batch of invites to the survey participants who powered our development process. Over the next few hours, we'll open Digg Reader to the rest of the users who have signed up for early access. Our goal is to make sure the experience remains speedy and stable… This beta version is aimed first and foremost at Google Reader users looking for a new home in advance of its imminent shutdown. Once you connect your Google Account, you'll find all of your feeds and folders set up and ready to go. And even if you're not a Google Reader refugee, come on in! You can build up your list of sources by browsing recommended publishers or searching for feeds via the "Add" button.
was explained on Digg.com. Even if you are not planning to use Digg Reader forever, transferring your Google Reader feeds to it before the service closes is a no-brainer. You can now migrate your feeds, use keyboard shortcuts, save stories to Instapaper, Pocket, or Readability, and read in multiple modes. Digg Reader for iPhone and iPad is now available on the App Store as well.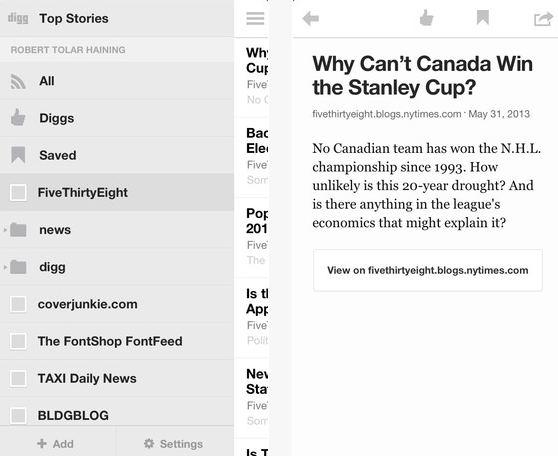 Digg Reader is not a finished product. The developers behind it are planning to add a lot of more features to it. This service is worth testing if you have not already moved your feeds off of Google Reader.
Disclaimer:
Our articles may contain affiliate links. Please read our disclaimer on how we fund this site. As an Amazon Associate, we earn from qualifying purchases.