Color E-Ink Technology: Ready for Prime Time?
0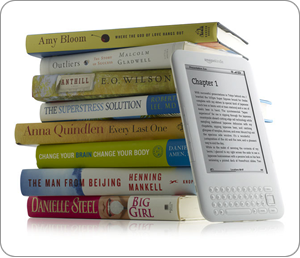 We have been waiting for Amazon to release a color screen e-book reader for a couple of years now. Color e-paper technologies are already available to companies such as Amazon. It is just that Jeff Bezos and Co. are not sold on these screens yet. Maybe till now. China is going to be the first company to see a full-color E-ink e-book reader. We are not talking about a Nook 2 type screen, which is why this is such an exciting development. Hanvon's color e-reader is expected to be introduced in FPD International 2010 trade show in Tokyo later this week. Depending on how it does, it is not too wild to predict Amazon and other e-reader makers jumping on board to add color E-ink screens to their next generation e-readers.
As much as Kindle fans claim that Kindle's lack of a color screen is not an issue for them, that is not what e-reader makers are hearing through their surveys and research.
On a list of things that people want in e-readers, color always comes up.  There's no question that color is extremely logical. But it has to be vibrant color. We're not willing to give up the true black-and-white reading experience,
said Sony's Steve Haber. Hanvon's color e-reader will have a 9.68 inch color screen and will start selling in China for now. The company has not ruled out bringing the device to the U.S.
At this point, there is no question that Amazon and other players in this market need to find a way to bring color to the e-ink screens on their devices. Amazon may be looking to introduce a LCD Android tablet to the market soon, but that type of device would not offer the type of experience e-ink devices offer. Without a color screen, e-readers will eventually lose out to alternative devices on the market.
Disclaimer:
Our articles may contain affiliate links. Please read our disclaimer on how we fund this site. As an Amazon Associate, we earn from qualifying purchases.