enTourage Pocket eDGe To Debut
0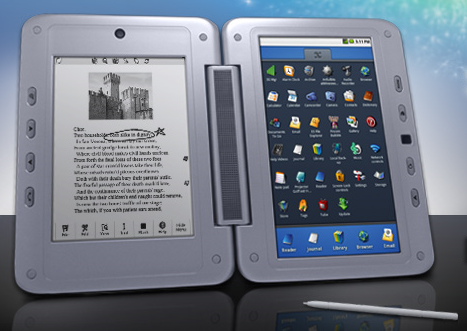 enTourage eDGe is quite a unique device. It is a netbook/e-reader hybrid that intends to provide its owners with the best of both worlds. eDGe combines an e-ink based e-reader with an Android netbook to attract fans from both sides. We did not give the device a whole lot of chance at the time. It seems the company behind it has sold enough units for it to justify releasing another model to the market. Pocket eDGe looks similar but is smaller in size. It has a 7 inch screen tablet and a 6 inch screen e-reader. The smaller design should make the device more portable.
Here is how Pocket eDGe stacks up against enTourage eDGe:
Price: $399 vs. $549
Weight: 1.35 lbs vs. 3.2 lbs
Tablet screen: 7 inch vs. 10 inch
Reader screen: 6 inch vs. 9.7 inch
Camera resolution: 2 MP vs. 3 MP
Microphone: 1 vs. 2
This tiny device won't have a user replaceable battery, unlike its big brother. So you can almost think of Pocket eDGe as eDGe lite.
Pocket eDGe won't be beating Kindle or NOOK anytime soon. But at least it is not a Kindle copycat. Now if something could be done about the device's price and battery life. Here are the full specifications per enTourage Systems:
Dimensions: 5.5″ x 7.5″ x 1.0″ closed,11.0″ x 7.5″ x 0.5″ open
Weight: 1.35 lb
Tablet screen: 7.0″ WXGA (800×480)
Tablet input: Resistive touch (use finger or stylus on screen), optical finger pad
Reader screen: 6.0" e-Ink® (800×600), 16 shades of gray
Reader input: Stylus (Wacom Penabled®)
Operating system: Linux® with Google® Android™
Internal memory: 3GB
Connectivity: Wi-Fi™ 802.11 b/g, Bluetooth® capability, Ethernet-to-USB adapter available
Screen Rotation: 90 and 180 degrees (tablet), 180 degrees (reader)
Reader file formats: ePub, PDF
Tablet video formats: 3GP, MP4, Adobe Flash Lite® (H.264), AVI (DivX or Xvid encoded), MOV, WMV
Tablet audio formats: MP3, WAV, 3GPP, MP4, AAC, OGG, M4A
Keyboard: Virtual keyboard on tablet screen or connect your own by USB
Ports and slots: MicroSD card slot, standard USB port, Mini-USB port with mini-USB-to-USB cable included
Battery life: up to 6 hours, or up to 11 hours using only the reader screen
Camera: 2 megapixel with video capability
Built-in microphone
Built-in stereo speakers
3.5mm headphone/headset jack (TRRS)
Are you impressed?
Disclaimer:
Our articles may contain affiliate links. Please read our disclaimer on how we fund this site. As an Amazon Associate, we earn from qualifying purchases.