Acer Iconia B1 Tablet, Griffin PowerDock 5 Charger
0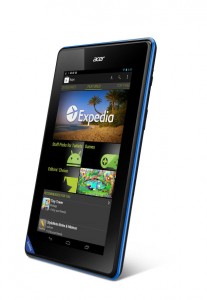 The Kindle Fire and Nexus 7 are already very affordable tablets. We are expected to get even more affordable tablets in the upcoming months and years. The Iconia B1-A71 is a highly affordable tablet by Acer which is designed to compete in this segment of the tablet PC market. The device will go for under $150.
The Acer Iconia B1 Tablet has Android 4.1 onboard and features a dual-core 1.2GHz processor. It has a 7-inch, 1,024×600-pixel screen, 512MB of RAM, 8GB of storage, and Bluetooth. There is not a whole lot to make us excited about this tablet other than its price. No word on when it will make it to the U.S. market.
Speaking of new products that we heard about at CES, Griffin PowerDock 5 is a new multi-device charger that can charge up to 5 iPads at the same time. It has 5 charging bays with ChargeSensor technology to sense the requirements of devices plugged into it to provide optimal charging for them. This exciting dock will be available for $99.