White House Targets E-Reader Owners
0

The Obama administration has taken a lot of flak from all sides for not doing this or doing that legislation. But you have to give this government credit for embracing technology. The Obama campaign raised a lot of money through the social media during the campaign. In fact, the government still engages people through social media among other means. Now the government is going after e-reader owners as well. After all, how would you explain the White House releasing the new Economic Report of the President for Kindle and ePub compatible e-readers on the market?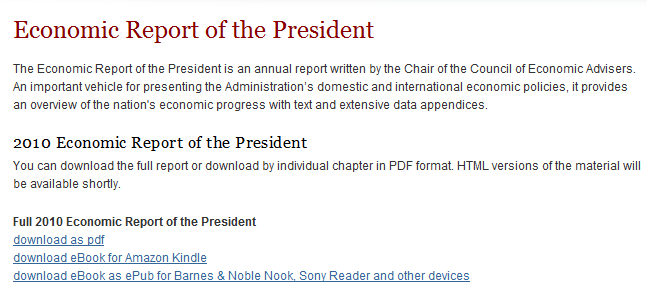 That's certainly good news as it should give e-book reader manufacturers yet another incentive to keep up the good work. Of course, it would have been nice if there was a universal format for all e-books so the White House didn't have to release its report in 3 formats. Thankfully, the latest e-book readers seem to support PDF one way or another.
One has to give the current regime credit for trying to make its message more accessible to more people. There are many Kindle and Nook owners out there. Many will own the iPad as well. While the government can't make you like its message, it can certainly put it out there in front of as many eyeballs as possible. This latest move is a good step in that direction.
Disclaimer:
Our articles may contain affiliate links. Please read our disclaimer on how we fund this site. As an Amazon Associate, we earn from qualifying purchases.