Publish Your Book on myebook
0
by P. Rad
— 31 Mar, 2009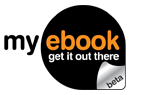 Have you ever wanted to publish your own ebook fast? Myebook is a Web 2.0 community that allows you to do just that. It is designed to help you publish and share your work with other community members. The platform is designed to help you import your PDF content or just start your ebook from scratch. But you will be making more than just text ebooks. You can add video, audio, other interactive features to your ebooks, which is what the future of books is all about. You can also create and manage your own communities around your favorite topic too, giving you the chance to get people to discuss your work and give you constructive feedback.
The self-publishing platform offered to you by myebook is truly innovative as it makes it very easy to design your pages and deploy your favorite themes on your ebooks. If you need more images or content, you can upload them to your ebook. Overall, if you have got something to say, it's so easy to publish it on myebook.
myebook is not the only social book community on the Internet but is certainly an innovative one. Social books are coming at us fast, and there is an explosion of content on the horizon. There will be decent books and junk ones. But the playing field is quickly becoming leveled. If you are a publisher, that is something to be excited about.
Disclaimer:
Our articles may contain affiliate links. Please read our disclaimer on how we fund this site. As an Amazon Associate, we earn from qualifying purchases.