NOOK Touch Hack: Add USB Support
0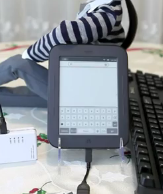 The NOOK Simple Touch is already a very convenient device to use considering that its users can use their fingers to do things on it. But wouldn't it be nice if you could use your NOOK Simple Touch with a USB keyboard? Hacker verygreen has figured out a way to activate USB host support on NOOK Touch.
The NOOK Touch is not a high power device. It is not designed to work with USB hard drives and those types of electronics. But a keyboard does not consume as much energy as storage solutions. With this hack, you will be able to connect your USB keyboard to your NOOK. Other USB devices would work but you will need to find a way to power them up.
Verygreen has posted detailed instructions and explanation on how the hack was done. There are hardware similarities between the NOOK Color and NOOK Simple Touch which helped here. It goes without saying that even with this hack you are going to have a hard time using the NOOK Simple Touch as a tablet.
Disclaimer:
Our articles may contain affiliate links. Please read our disclaimer on how we fund this site. As an Amazon Associate, we earn from qualifying purchases.