Kobo eReader: Just Another Kindle Killer?
3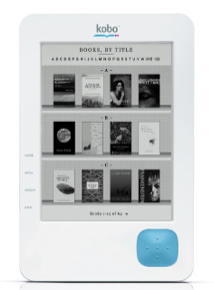 The media has been so obsessed with Apple iPad and HP Slate that some exciting e-readers have managed to stay under the radar. While Apple iPad and HP Slate have today's top e-readers beat in the features department, devices such as Kobo eReader are putting pressure on Amazon and other e-reader manufacturers to lower their prices. Kobo eReader offers very similar features to what we have come to expect from Kindle and other top e-readers. It has its own store (with 2 million titles), and it only costs $150. It essentially puts Sony's latest promotion to shame.
Kobo comes with its very own platform. So you can read your books on other devices such as Blackberry and Macs. The device certainly has potential, and its price puts huge pressure on other companies to lower their prices as well. The problem with Kobo reader is the fact that it does not have a 3G service and does not support WiFi connections as well. So it is a step backwards in that regard.
Kobo e-reader is not going to kill Amazon Kindle, unlike what some other top sites are claiming. The price is a big factor when buying an e-book reader but so are the features. Kobo eReader's failure to offer Internet connectivity means that its fans will be investing $150 for a device that lets them just read. No way to browse the Internet, download content, or have companies such as Amazon or B&N send e-books to the device.
The emergence of such a device does indicate that the e-reader market is on its way to full segmentation. Companies will now have to pick their fight and choose which segment of the market they want to be involved in. The iPad and Slate will be battling it out in the high-end e-reader market. Kindle, Nook, and other similar devices are stuck in the middle. Amazon can always jump in the high-end business, but it's more likely that the company will focus on other segments of the market. Cheap e-readers are on their way. The iPad or Kindle are not for everyone after all.
Disclaimer:
Our articles may contain affiliate links. Please read our disclaimer on how we fund this site. As an Amazon Associate, we earn from qualifying purchases.