Kindle 3 Coming in August?
5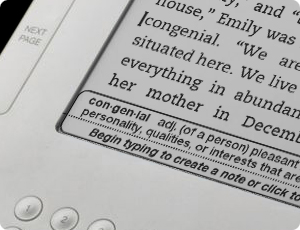 The technology world has been waiting for Amazon to unveil its response to Apple iPad. Kindle has ruled the e-reader world for a couple of years, but it has been upstaged by Apple iPad in the past couple of months. Let's not underestimate Nook either. B&N is expected to unveil Nook 2 in the upcoming months, and with the power of Android behind the device the sky's the limit. According to Bloomberg, a new Kindle is in the works and will be introduced by Amazon in August. As expected, Amazon won't be "out-ipadding" the iPad with this iteration of Kindle. In fact, it seems Amazon is more trying to solidify Kindle's position in the market rather than going after the iPad.
It's probably likely that Amazon already had this one in mind, more out of a response to Sony than out of any response to Apple,
said James McQuivey, an analyst at Forrester Research Inc. Jeff Bezos claims that a color screen Kindle is a long way out. If the Kindle API fails to woo developers, Amazon Kindle hardware could be in deep trouble.
Make no mistake about it. Amazon will continue to sell e-books on iPad, PCs, and other devices. It will most likely sell a decent number of Kindle 3 units when the device is released. However, it does seem Amazon has shifted its strategy slightly from hardware to software. Kindle 3 is expected to be thin and offer an even better reading experience than its predecessor. But it won't offer touch navigation. Nor will it have thousands of apps to choose from (something that could be possible on Nook).
Amazon's indecisiveness may be costing the company market-share these days. The company should have already worked out an API for Kindle (maybe a year ago). The back and forth action with publishers has not helped it either. The Kindle platform is not in crisis per se. But Amazon needs to pick an aggressive strategy and go all in with it. The good news is Amazon may still have a bit of time to get it right, but Amazon's window of opportunity is closing fast.
What are your thoughts? Are you disappointed with Kindle 3 not being a color-screen or touch-screen device?
Disclaimer:
Our articles may contain affiliate links. Please read our disclaimer on how we fund this site. As an Amazon Associate, we earn from qualifying purchases.