30 Best Kindle 3 Cases
0
by Cyrus
— 25 Nov, 2010
Kindle 3 is currently the best classic e-reader on the market. Many companies have brought "tablet lite" products to the market and branded them as e-readers. But savvy consumers know better. Kindle 3 is not a revolutionary upgrade over Kindle 2, but it does have a better screen and is a more compact device. Unfortunately, that means Kindle 3 owners won't be able to use their Kindle 2 cases to keep their devices safe. No need to fear as these 30 awesome Kindle 3 cases can more than get the job done: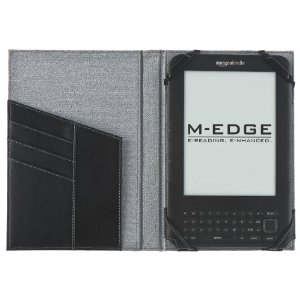 M-Edge Cambridge Kindle Jacket: an attractive case constructed of durable black cotton canvas and genuine leather. It is useful for all kinds of situations.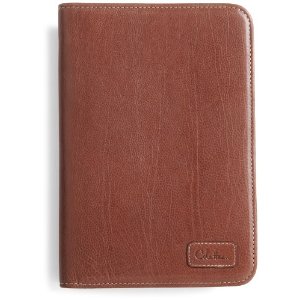 Cole Haan Hand-Stained Pebble Grain Leather Kindle Cover: a premium case for Kindle 3. Has hand-stained, pebble grain leather exterior and goatsuede interior.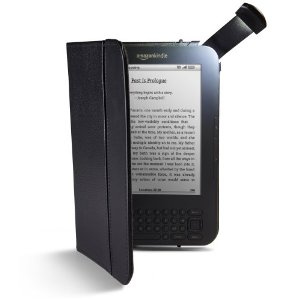 Kindle Lighted Leather Cover: the official Amazon Kindle case. It not only protects your device, it has a built-in light that lets you read on your device in darker areas.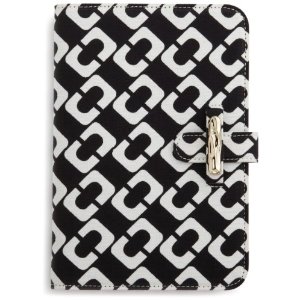 Diane von Furstenberg Limited Edition Kayley Canvas Clutch for Kindle: designed specifically for Kindle owners who are into fashion as well. It has a stain resistant finish and can hold your business cards too.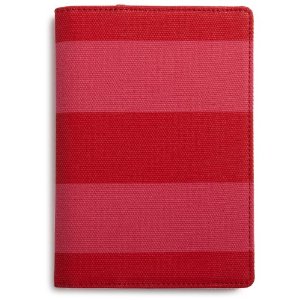 kate spade new york Canvas Kindle Cover: another cool Kindle case for the fashion savvy. It includes kate spade new york logo stamped on the back cover and the brand's signature cotton book stripe lining. Does protect your device too.
kate spade new york Patent Leather Kindle Cover: a premium leather Kindle 3 case that keeps your device safe with its hinge system. It protects your device's screen too.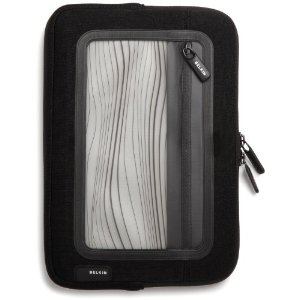 Belkin Vue Kindle Sleeve: an awesome Kindle case for travel. It does have a large pocket for your notes, business cards, and everything in between.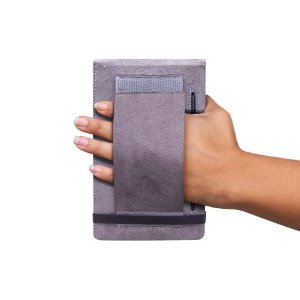 Marware Eco-Flip Kindle Flip Case: one of the most innovative cases available for Kindle. It makes using your device when it is inside easy. The hand-strap feature is very nice.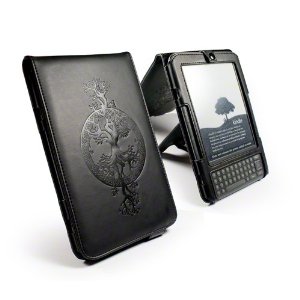 Tuff-Luv Apocalypse Series case cover & stand: a hand-made Kindle 3 case with an integrated stand. It looks quite sleek and is pretty compact.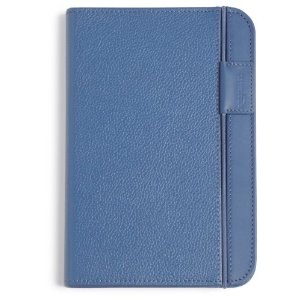 Kindle Leather Cover: the official Amazon case for Kindle. It comes in 7 colors but does not have a built-in light. It's pretty light-weight.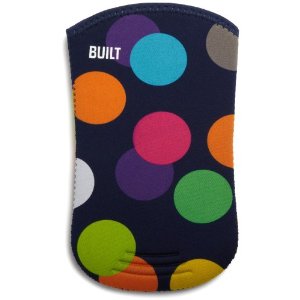 BUILT Neoprene Kindle Sleeve: a check-point friendly sleeve for your Kindle that can handle bumps too. It can be machine-washed too.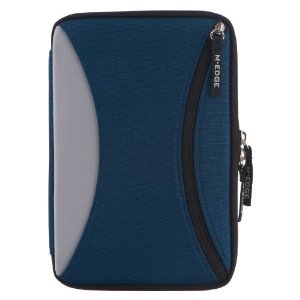 M-Edge Latitude Kindle Jacket: Kindle sleeves such as this one are great choices if you are planning to take your Kindle with you on the go and keep it protected at all times.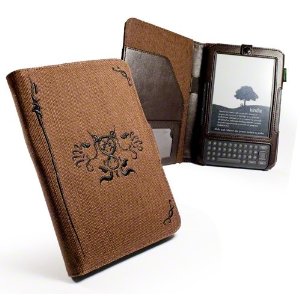 Eco-nique natural Hemp Brown case cover: a unique hemp e-reader case. It looks quite attractive, protects your device, and has space for your notes.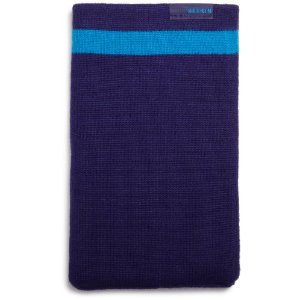 Belkin Knit Kindle Sleeve: an affordable sleeve made with woven stretch polyester. It is perfect if you plan to put your Kindle in your travel bag.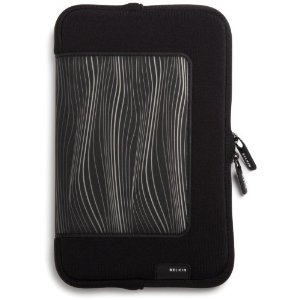 Belkin Grip Kindle Sleeve: its zippered design makes sure your device stays in place at all times. It's pretty light-weight too. For under $25, it's a pretty decent sleeve.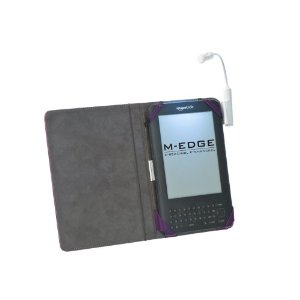 M-Edge GO! Kindle Jacket: it gives you access to all the ports and buttons on your device. It is compatible with M-Edge e-Luminator booklight too.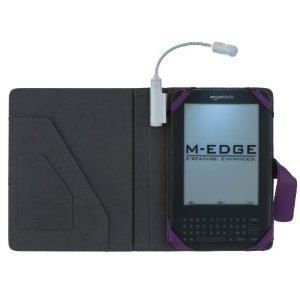 M-Edge Executive Kindle Jacket: has durable microfiber leather exterior and soft microsuede interior. Its four-point mounting system keeps your device in place.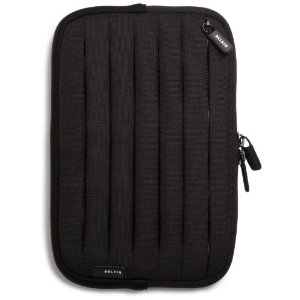 Belkin Pleated Kindle Sleeve: protects your device against scratches. You may want to use this one to put your Kindle in another bag.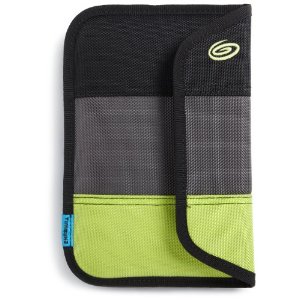 Timbuk2 Nylon Kindle Envelope Sleeve: a TSA approved carrying sleeve for your Kindle 3. The high density foam used in this sleeve handles impacts.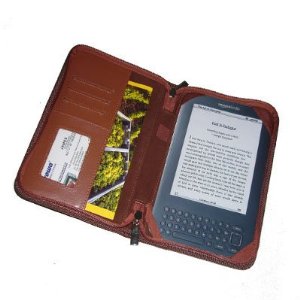 TrendyDigital Folio Case for Kindle 3: provides protection for your device and includes storage pockets for pens, and business cards.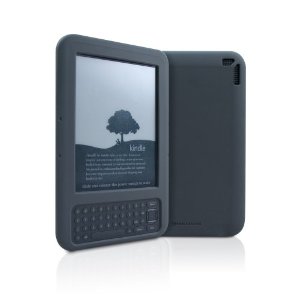 Marware SportGrip Fitted Silicone Kindle Case: a slim silicone case for Kindle 3 that fits your device perfectly and protects it against scratches. It is easy to remove too.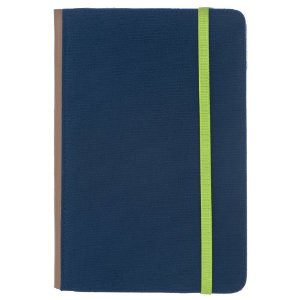 M-Edge Trip Kindle Jacket: a lightweight, sleek case for Kindle 3. Its exterior is treated with ScotchGuard to repel liquids and dirt. It is compatible with M-Edge's e-reader light too.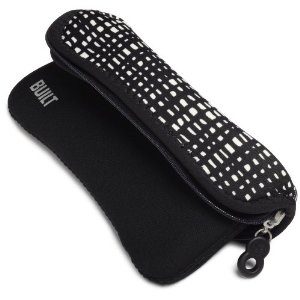 BUILT Reversible Neoprene Kindle Sleeve: a reversible sleeve that provides you with two designs to choose from. It handles impacts too.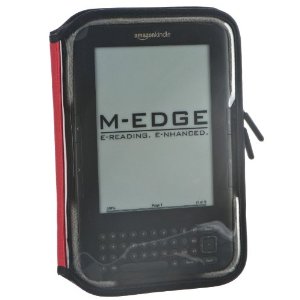 M-Edge Leisure Kindle Jacket: designed specifically for those of you who love to read on your Kindle on a beach or next to a pool. Just flip over your Kindle if you are planning to travel with this case.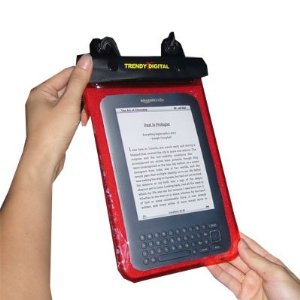 TrendyDigital WaterGuard Plus Waterproof Case with Padding: a waterproof Kindle case perfect to use next to a pool or on the beach. It is made of UV-stabilized material and is durable. It's not that expensive either.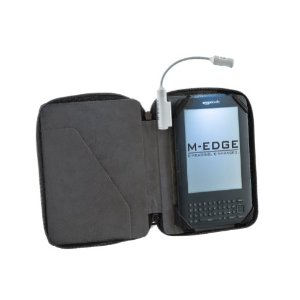 M-Edge Capital Kindle Jacket: a sleek Kindle jacket that keeps your device safe when you are on the go. The inside is soft and does not scratch your device. Another case that works with M-Edge's reading light.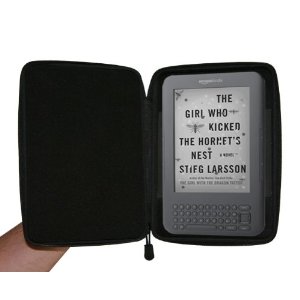 BookArmor ™ Delta 6 Edition High Impact Travel Case: worried about damaging your e-reader by accident when you are traveling around? This affordable case has you covered.
rooCase Folio Leather Case: perfect case for travel. Protects your device against scratches and bumps. You can use it to carry bills, credit cards, and much more.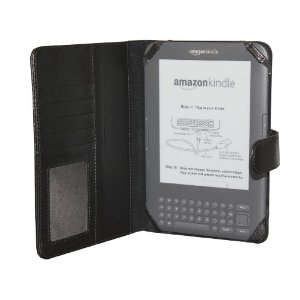 J-Tech Digital Genuine Leather Case: a highly attractive case for business meetings and beyond. It is made of waterproof leather and is pretty light.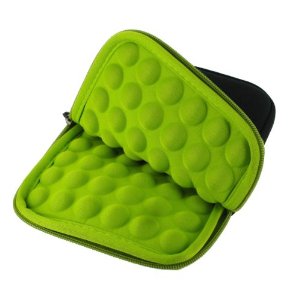 rooCASE Super Bubble Neoprene Sleeve Case Cover for Kindle: bubble cases are my favorite as they are great in handling bumps and impacts. This one is no different. It is water resistant too.
Please add your Kindle 3 case suggestions below.
Disclaimer:
Our articles may contain affiliate links. Please read our disclaimer on how we fund this site. As an Amazon Associate, we earn from qualifying purchases.