Juniper Research: Ebook Sales To Triple By 2016
0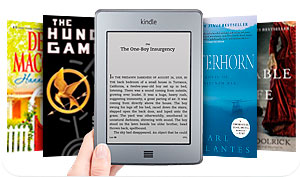 The Ebook industry is a fast growing one at this point. With the rise of e-readers and tablets, digital books are becoming quite popular. Companies such as Amazon and B&N are already making a ton of money from e-books. According to Juniper Research's latest report, revenues from e-books delivered to handheld devices could raise to $9.7b by 2016 (up from $3.2b in 2011).
The tablet market is quite young at this point. It is being dominated by the iPad but devices such as Amazon Kindle Fire are rising too. Juniper suggests tablets could be responsible for 30% of e-book sales in 2016. The adoption of EPUB3 can be a game changer in this industry as well.
Considering that publishing e-books is so easy these days, it is no wonder e-books are destined to become huge cash cows for big players such as Amazon. With tablets and e-readers becoming more popular every year, the future for e-book industry is bright.