Publish e-Books to iBooks with Smashwords
0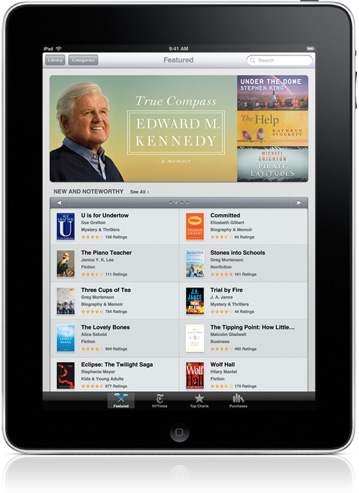 Amazon Kindle has been quite successful in the past few years. It has not only given the e-book industry the boost it needed to move forward and grow, it has provided publishers and independent authors with a platform to share their content with. Kindle Publishing Platform has certainly made it easier for more people to get their books in front of the world. Apple iPad has been received with so much enthusiasm by publishers and authors and certainly has the potential to be a game changer in multiple industries. What the device does not have is a platform for independent authors to bring their works to the iPad. While that could be in the works, independent authors can take advantage of Smashwords' service to bring their work to iBookstore.
According to an e-mail sent to authors, qualifying Smashwords books will be available on the iPad. Smashwords seems to have a deal in place with Apple to make it possible for independent authors to get their work in front of the iPad community. Here are a few requirements for authors to abide by in order to get their books accepted to iBookstore:
ebook must be accepted into the Premium Catalog by March 31.
book must be available in ePub format and must pass EPUBCHECK quality check
ebook cover should meet minimum quality criteria.
acquire a unique ISBN for ebooks
There are a few other requirements for independent authors interested in having their work available on iPad. And here is the question most authors are interested about knowing the answer to (courtesy of weberbooks):
How much does distribution to Apple cost you? Nothing. Like all Smashwords
services, it's free. We earn our income when your books sell. We will pay you
60% of the list price for all your sales.
That's not a bad deal considering that you won't have to deal with Apple directly and have Smashwords to count on to address glitches and issues. I still believe that Apple is better off introducing easy tools for independent authors to get their books to iBooks. I am sure quality of work is something Apple will have to worry about with such tools. But if the company is serious about dominating the e-book industry, that's a step it needs to take.
Your take: will you publish your content to iPad or would you rely on Kindle for iPad to sell your content?
Disclaimer:
Our articles may contain affiliate links. Please read our disclaimer on how we fund this site. As an Amazon Associate, we earn from qualifying purchases.