AmazonLocal Ads Coming to Kindle
0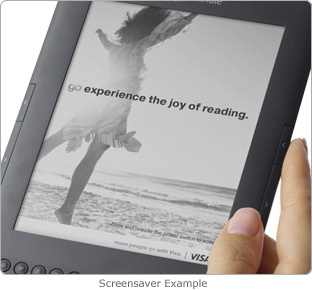 When Amazon launched Kindle with ads a short while ago, many experts were skeptical about its potential. After all, promoting ads via screensavers does not seem like a huge opportunity for Amazon. Many of those ads would be useless to Kindle owners anyway. The company is planning to change all that by bringing AmazonLocal ads to Kindle (via special offers).
Since we introduced special offers and lowered the price of Kindle to $114 and Kindle 3G to $139 earlier this year, customer response has been overwhelmingly positive – these quickly became our bestselling Kindles… Customers tell us they love the new lower price for Kindle and the money-saving special offers that display when they aren't reading. We think customers are going to be thrilled with this new, convenient way to take advantage of AmazonLocal deals – you can view, purchase, and redeem the deals using only your Kindle – no computer, no printer, no hassle,
said Jay Marine, Director, Amazon Kindle. In its press release, Amazon has included examples for the types of deals Kindle owners can expect to see on their devices (deals on Yoga classes, Comedy clubs, …). Here is how the process works: once you purchase a deal on your Kindle, you will receive a voucher to show to the local merchant. You won't need a computer or a printer.
Current Kindles won't have these deals for a short while. A software update in the near future will activate these deals. This is quite an exciting move by Amazon and makes Kindle special offers much more useful. Will it make Kindle more popular than it is? We will have to wait and see.
Disclaimer:
Our articles may contain affiliate links. Please read our disclaimer on how we fund this site. As an Amazon Associate, we earn from qualifying purchases.