5 Stylish Kindle Cases To Give your Kindle a Killer Look
0
by Cyrus
— 2 Jul, 2009
Amazon Kindle may be a fairly young product line, but it hasn't stopped accessory manufacturers from moving in and developing some cool cases for Kindle. There are really two types of cases for Kindle if you think about it. The lower-end cases are more designed to keep your Kindle secure but do not exactly set the world on fire when it comes to looks and fashion. The upper-end cases on the other hand require a premium but they do make your Kindle look like a super gadget. These premium Kindle cases are not that affordable and not for everyone, but if you are into fashion, the latest trends, and so on, you should consider going in that route.
With that in mind, here are 5 stylish Kindle cases that can make your Kindle look like a million dollar gadget:
1. Cole Haan Hand-Woven Patent Leather Cover: what can I say. A stunning leather case for Kindle 2.0 that is not cheap by any means. But it's one of the best looking cases for Kindle, and that's what we expect from Cole Haan products. Great Kindle case for executives.
2. OCTO Vintage Leather Book Cover: a Kindle case for the sophisticated. This leather case not only protects your gadget, it makes it look great as well. I would say it's very close to Cole Haan's case (as far as the looks are concerned).
3. Piel Frama Amazon Kindle 2 Premium case: a handcrafted Spanish leather case that is very slim as well. Has got the looks and protects your gadget well.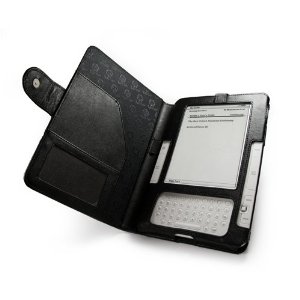 4. Tuff-Luv Napa Leather case: an elegant looking case for Kindle 2.0 that is very solid as well. Tuff-Luv is known for creating tough cases, and this is certainly one of them. But unlike most tough cases, this one is easy on the eye too.
5. OCTO Kindle 2 Leather Slip Cover: it's just fitting that 2 OCTO cases make it to this list. OCTO's cases are all trendy. This one is made out of Italian Leather. It's slim and light.
There are plenty of other stylish cases out there for Kindle but these 5 stand out. They are not cheap by any means, but if you are into fashion, you are not looking for a cheap option.
Your take: what's your favorite case on this list?
Disclaimer:
Our articles may contain affiliate links. Please read our disclaimer on how we fund this site. As an Amazon Associate, we earn from qualifying purchases.