Nexus 7 vs. Kindle Fire vs. NOOK Tablet vs. iPad 3
0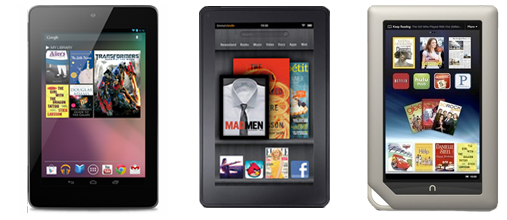 In case you missed it, Google has finally announced its new tablet, the Nexus 7. The device costs the same as the NOOK and Kindle Fire. But it offers many more features. For starters, the device is thinner and lighter than its two rivals. It runs Android 4.1 Jelly Bean, which is a huge plus. It has a quad core Tegra 3 processor too. Just like the NOOK Tablet, Nexus 7 offers 1 GB of RAM (512 MB for the Kindle Fire). You also get a 1.2 MP front-facing camera and Bluetooth connectivity as well.
The Kindle Fire may not be that competitive against the Nexus 7. But considering all the free content Amazon Prime customers get, it may be hard for people to give up on. Besides, Amazon is planning to step up its game and offer a new Kindle Fire in the next few months. The current Kindle Fire could get a $50 price drop as well.
Can the Nexus 7 take sales away from the iPad? Just like the Kindle Fire and NOOK, Google's new tablet is ideal for content consumption. It may have a decent processor but Apple's iPad is superior in the screen, battery life, and other departments. At the end of the day, the iPad is a premium tablet whereas the Nexus 7 targets the budget tablets PC market. It will be interesting to see how the Kindle Fire 2 stacks up against this new tablet though.
What's your take? Did Google hit it out of the park with the Nexus 7?
Disclaimer:
Our articles may contain affiliate links. Please read our disclaimer on how we fund this site. As an Amazon Associate, we earn from qualifying purchases.