Kindle Paperwhite Reviews Surface, Starts Shipping
0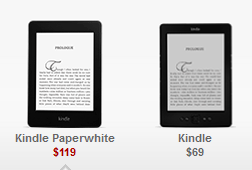 If you have ordered your Kindle Paperwhite around the time it was announced, you should be happy to know that your order will be reaching your home soon. Amazon has already started preparing Kindle Paperwhite packages for delivery. The reviews for the device are already starting to appear online. CNET, Mashable, Slash Gear, and many other top tech sites have already posted what they think of the new Kindle.
There is no secret that NOOK Simple Touch has been quite popular among bloggers. The Kindle Paperwhite is going to be even more popular among consumers. The above reviews do suggest that the new Kindle's front-lit display is better designed than its NOOK counterpart. But if you don't need the light or touchscreen capability, you could save a bunch of money by going with the new standard Kindle. The Kindle Paperwhite is now shipping for $119 with ads.
Disclaimer:
Our articles may contain affiliate links. Please read our disclaimer on how we fund this site. As an Amazon Associate, we earn from qualifying purchases.