dotEPUB: Convert Webpages to Kindle / ePub Formats
0
Most of us love reading as much as we can on our e-readers. We are not just talking about books. There are plenty of magazines, comic books, and other publications you can read on your e-ink e-book readers or tablets. Wouldn't it be nice if you could read your favorite webpages on your Kindle? That's what dotEPUB offers. It is a software in the cloud that turns any webpage into an e-book.
This tool is available in 3 forms. If you happen to use Google Chrome as your main browser, you are going to love the extension available for it. A bookmarklet is available for other browsers. Web publishers also can add the widget for this service to their website to make their visitors' reading experience more convenient.
dotEPUB is compatible with e-readers, tablets, smartphones, and netbooks. It is an awesome tool to use to build your own personal library. When using this service, make sure you use the right format for your e-reader (not all e-readers support e-pub).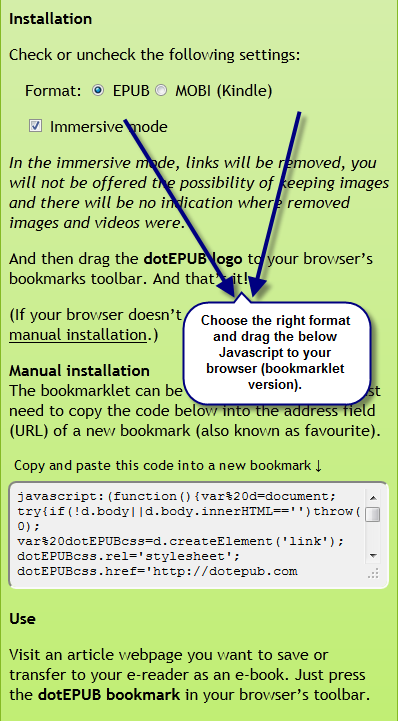 Overall, dotEPUB offers a lot of promise. If you like reading your favorite webpages on your e-reader, tablet, or smartphone, this service is well worth checking out.
How would you improve it?
Disclaimer:
Our articles may contain affiliate links. Please read our disclaimer on how we fund this site. As an Amazon Associate, we earn from qualifying purchases.