Amazon Building a Phone with 3D Display?
0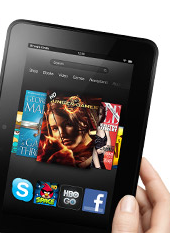 We have been hearing a lot of rumors about Amazon building a Kindle phone. Most experts expect the device to be a budget phone. The Wall Street Journal is now reporting that Amazon is indeed working on two smartphones, one of which will have a 3D display. This will be a premium smartphone but won't require users to use glasses to see content in 3D.
Amazon's premium phone will give images a holographic look. It will have high-tech eye-tracking technology. The question at this point is whether we will ever see this phone. Amazon is always working on interesting projects. But the idea of 3D phones is nothing new. Previous 3D phones were not exactly iPhone killers.
It remains to be seen when Amazon releases its Kindle phones. Considering the amount of success Amazon has had with its tablet strategy, it is now time to implement that in the smartphone market.