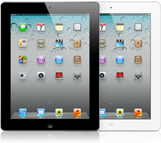 The iPad is one of the best tablets on the market. It is a very capable device that can serve as your e-reader, entertainment device, or business organizer. While Apple has had a lot of success with this tablet, it seems that the low price of the Kindle Fire may have affected iPad sales at the end of the year. As Tavis McCourt of Morgan Keegan suggests, Apple sold about 13m units in the 4th quarter of 2012 (not meeting the 16m mark). Considering that Amazon sold millions of tablets last year, the Amazon Kindle Fire may have taken some business away from Apple.
So how's Apple going to respond to the Kindle Fire? Some have suggested that it could bring 7 inch iPads to the market.  DigiTimes is now suggesting that Apple may tweak its pricing schemes to make its tablets available for as low as $299:
With the existing iPad 2, the Apple tablet series may cover all price segments–from entry-level to high-end. Apple's pricing strategy for its iPad series is crucial to the tablet market. It remains to be seen at what price level Apple will set its entry-level iPad. For Wi-Fi-only models, U.S. $299, U.S. $349 or U.S. $399 may all be possible
This could be a game changer for this market. Many Apple competitors are already struggling to keep their prices competitive with those of Apple's without cutting corners in the quality of their devices. It will be interesting to see how such a pricing scheme would affect companies such as Amazon and B&N.
What's your take? Should Apple make its iPads cheaper?
Disclaimer:
Our articles may contain affiliate links. Please read our disclaimer on how we fund this site. As an Amazon Associate, we earn from qualifying purchases.