Which Tablet Has the Best Battery Life? [Graph]
0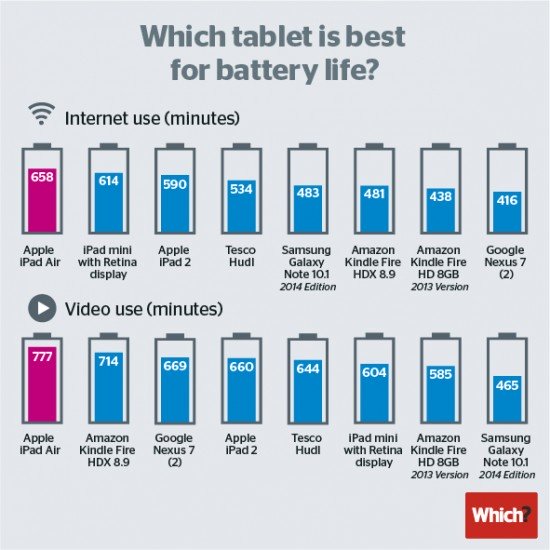 The iPad Air is arguably the best tablet on the market. But there are plenty of other awesome alternatives out there. Most decent tablets can be used to surf the Internet for a few hours on a full charge. But which tablet has the longest battery life? Which? is suggesting that the winner is the iPad Air:
The iPad Air, iPad mini with Retina display and iPad 2 all performed better than the Android alternatives for web browsing. On a full tank, Apple's iPad Air will last for 658 minutes of web-browsing – beating the 483 minutes offered by the longest-lasting Android tablet we tested, Samsung's Galaxy Note 10.1 (2014 edition). Likewise, the iPad mini with Retina display features an impressive 614 minutes of internet usage, while Apple's three year old iPad 2 managed a sterling 590 minutes.
I can't say we are surprised by this. If you have checked out our tablet reviews on YouTube, you have seen how the iPad beats other tablets in this area most of the time. The Surface 2 was not included in this test but Windows tablet are notorious for their lousy battery life.
Disclaimer:
Our articles may contain affiliate links. Please read our disclaimer on how we fund this site. As an Amazon Associate, we earn from qualifying purchases.