iPad Mini Retina Coming, DC Comics Now Available for E-readers
0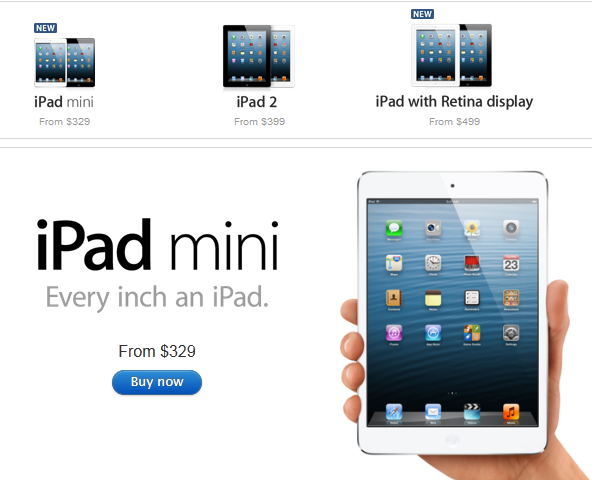 The iPad mini may not be a cheap tablet but is a decent device for those of you who want to be able to use your tablet in one hand for e-reading and other activities. Unfortunately, Apple did not choose to use a Retina display in the device. It was not necessarily that Apple did not have the know how to do it. The company has been rehashing some old ideas in the past couple of years. This is no different. Instead of offering Retina iPad minis now, Apple will take your $329 for the current iPad mini and bring that device to the market in a few months.
The iPad mini 2.0 will have a 7.9 inch display with 2048 x 1536 resolution. The rumor is being brought up by the folks at DoNews. Apple is not expected to increase the price for the new iPad minis when they hit the market. This does show a cynical business model by Apple though. Instead of pushing the envelope, which Apple has done very well in the past, the company seems to be taking a much conservative approach with its products these days. If you need an iPad mini, it is always better to save your money now and get the second edition.
There is some good news for comic book fans though. DC Comics has announced a new initiative to bring its new comic book releases to Kindle, Nook, and iOS platforms. You won't have to rush to your local store to pick up your favorite comic book anymore. Publishers such as DC are always worried about piracy. It will be interesting to see how this new approach affects that. The good part is fans won't have to rely on DC Comics apps to download new titles.
70 titles will be made available in iBooks and other stores. Will this detract from physical stores selling comic books? That is very likely. But digital books are the present and future, so this is a good move by publishers.
Disclaimer:
Our articles may contain affiliate links. Please read our disclaimer on how we fund this site. As an Amazon Associate, we earn from qualifying purchases.