Google eBooks Getting a Dedicated Ereader
0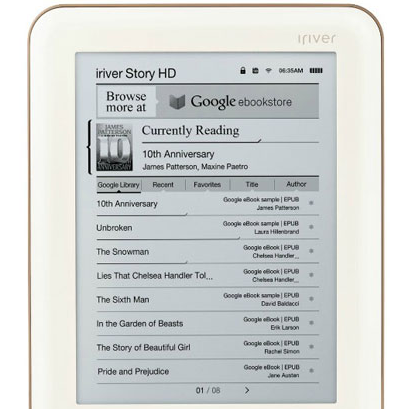 For those of you who may have forgotten, Google did launch an e-book store of its own in 2010. Google eBookstore was an exciting project that had the potential to put a lot of pressure on other top players in the e-book industry. Since we did not have e-readers that came integrated with this store, using its ebooks were a bit painful. iriver Story HD will change that. This exciting e-reader, which will make its debut soon, will give its owners the chance to download books from Google's ebook store without needing a computer.
Google eBooks are compatible with plenty of e-readers these days. The trouble is one would have to transfer each book to a PC before pushing it to those devices. With iriver Story HD, there is no need for that. Starting July 17th, this device will be available for sale in Target stores. iriver is the first manufacturer to launch an e-reader integrated with Google eBooks but more could follow soon. The device will offer:
WiFi Google ebook downloads
6 inch display with 768 * 1024 resolution
6 weeks of battery life
support for EPUB, PDF, DJVU formats
…
This is a pretty exciting device and will be available for $139.99. Are you excited already?
Disclaimer:
Our articles may contain affiliate links. Please read our disclaimer on how we fund this site. As an Amazon Associate, we earn from qualifying purchases.