Digg Reader on Android… Should We Care?
0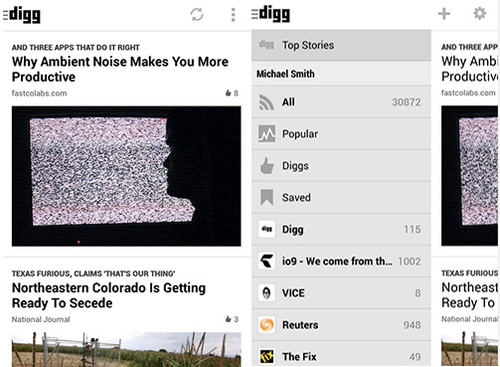 I have to admit that I was very excited about the Digg Reader when it was announced. Considering that Google Reader was dying at the time, I was optimistic that this product could take its place. While the effort the team behind the product has put forth so far is admirable, Digg Reader is not even close to being my favorite RSS reader. Digg is still improving the tool though.
The latest update by the Digg Reader team is good news for Android fans. You can now access Digg Reader on your Android device. Digg for Android lets you:
Quickly swipe back and forth through Digg's Top Stories, as well as through any feed or folder in Digg Reader. Choose from either the web view or the parsed text view.
Digg or save any story;  send it to Instapaper, Pocket or Readability (automatically upon save, if you choose);  and share to Facebook, Twitter, Google+, LinkedIn, Tumblr, WordPress, Buffer, Dropbox, Google Drive, email, text or any other sharable app on your device.
Search Digg Top Stories.
Sort your Digg Reader items by popularity to quickly see which of your items are the most talked-about on the social web.
Log in to Digg Reader with your Google, Facebook or Twitter account.  
Search for and add new feeds. Create, organize and delete folders.
If you so choose, post your diggs automatically to your Facebook timeline.
This is the first version of Digg Reader, so it might not be perfect. More features are expected to be added in the future. Digg Reader is not perfect yet but that could always change. I'd be willing to give it another chance if the developers add a decent search feature to it.
Disclaimer:
Our articles may contain affiliate links. Please read our disclaimer on how we fund this site. As an Amazon Associate, we earn from qualifying purchases.