Digg Making a Google Reader Alternative?
0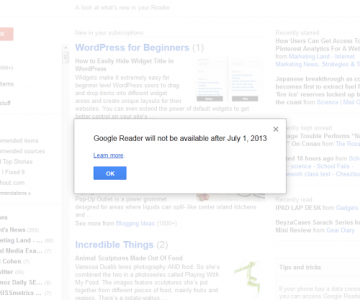 It was only a matter of time before someone stepped up to target Google Reader users angry with Google's mistake to close down the service. Digg used to be quite popular a few years ago. The site has gone through many ups and downs (mostly downs) recently. But it is planning to introduce an alternative to Google Reader.
We've heard people say that RSS is a thing of the past, and perhaps in its current incarnation it is, but as daily (hourly) users of Google Reader, we're convinced that it's a product worth saving. So we're going to give it our best shot. We've been planning to build a reader in the second half of 2013, one that, like Digg, makes the Internet a more approachable and digestible place. After Google's announcement, we're moving the project to the top of our priority list. We're going to build a reader, starting today… We hope to identify and rebuild the best of Google Reader's features (including its API), but also advance them to fit the Internet of 2013, where networks and communities like Facebook, Twitter, Tumblr, Reddit and Hacker News offer powerful but often overwhelming signals as to what's interesting,
was explained on Digg's blog. To be frank, I am not a big fan of Digg and do not trust these guys to pull it off. But I hope they do. Google Reader was an invaluable tool for many bloggers and folks who keep up with blogs online. RSS may or may not be a thing of the past. By closing down Google Reader, Google has provided sites such as Digg the opportunity to gain many new users.
I would like to see more companies jump on-board to offer an alternative to Google Reader. In the meantime, you could always use these Google Reader alternatives to make the transition off the service.
Disclaimer:
Our articles may contain affiliate links. Please read our disclaimer on how we fund this site. As an Amazon Associate, we earn from qualifying purchases.