Amazon: Trade In Your Old E-reader for Gift Card + Credit
0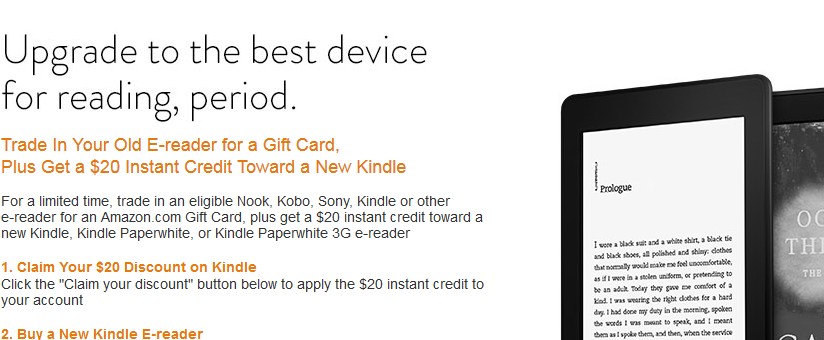 Amazon badly wants you to get a Kindle or upgrade your existing one. How badly? The company is offering a gift card and future credit if you trade in eligible NOOK, Kobo, Sony, Kindle, or other e-readers.
For a limited time, trade in an eligible Nook, Kobo, Sony, Kindle or other e-reader for an Amazon.com Gift Card, plus get a $20 instant credit toward a new Kindle, Kindle Paperwhite, or Kindle Paperwhite 3G e-reader
You also get a $20 instant discount you can use to buy a new Kindle. You can get up to $68.20 for your old Kindle. NOOK, Kobo Glo, and Kobo Aura HD do not fetch as much money. Not sure this is the best deal but if you have an old e-reader that you don't need anymore, you may want to give this deal a look.