Amazon sold 3.3m Kindles in 2009?
0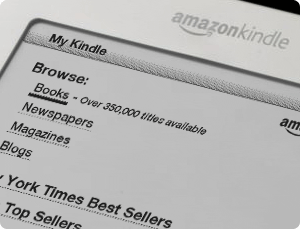 Amazon has been quite secretive about its sales numbers since the very start of the Kindle project. They can't keep those numbers under a wrap forever. According to DisplaySearch, shipments of e-paper increased by 417% in 2009 (from previous year) and Kindle seems to be one of the big reasons behind it. After all, Amazon Kindle is holding about 66% of the e-reader market. While these numbers are impressive, let's not forget that Amazon had two new Kindles in 2009. It's not clear whether the company is planning a similar move in 2010.
Things have changed quite dramatically in just the past 6 months. In early 2009, Kindle was clearly the king of the e-reader market and many were expecting Amazon to be able to hold on to its lead. Fast forward a few months and while Amazon may still have a large market-share in the market, its Kindle is being intensely challenged by devices such as iPad and to a lesser extent Nook. Apple sold a ton of iPads in its first week. It's expected to sell around 5m units in 2010, and that's a conservative number. The back and forth action between Amazon and Apple is more than just a competition. Amazon is still behind e-ink technology while Apple is banking on LCD. One gives you a more realistic reading experience while the other is more versatile and brilliant in handling all kinds of content. There have been talks about Amazon dropping e-ink for LCD for Kindle 3. But those are rumors at this point.
Many purists are still giving the iPad the cold shoulder. Anyway you look at it, the rivalry between Kindle and iPad can only be good for e-book fans. As long as these top companies compete over customers, you can expect them to be more conservative with their prices and more aggressive with their offers. Things are going to be much more exciting when HP, Toshiba, and other tablet makers have entered the market as well.
Disclaimer:
Our articles may contain affiliate links. Please read our disclaimer on how we fund this site. As an Amazon Associate, we earn from qualifying purchases.