Amazon Mocks iPad Mini, Quake III Running on NOOK
0
Apple was expected to change the budget tablet PC market with its iPad mini product. While the iPad mini will sell, it is priced high enough to give Amazon and Google tablets room to thrive and grow. Amazon has claimed that its Kindle Fire HD sales increased immediately after Apple announced its product. That does make sense considering that Apple chose to charge $329 for its 7.9 inch tablet. Amazon is taking a more aggressive stand against the iPad mini though. It is directly attacking the device on its homepage.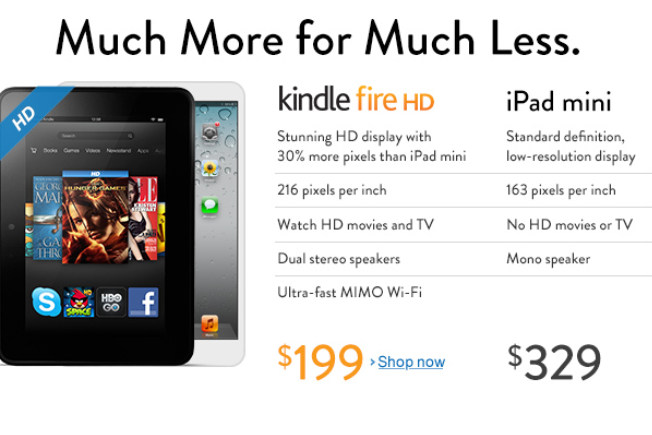 Both devices do have their own shortcomings. Amazon happens to tout its device's strength and point out iPad mini's weaknesses. The company is a bit desperate to keep Kindle sales going strong. Considering the amount of money Amazon lost last quarter, its aggressive tactic against Apple's tablet is understandable. Unfortunately for Amazon, the iPad mini does have more apps for users to choose from. The quality of build will almost certainly be higher. Unlike Amazon, Apple does not put advertisements on its devices. Even though the Kindle Fire HD is a pretty decent Android tablet, the Nexus 7 is a more worthy iPad mini rival.
While Amazon, Google, and Microsoft are dominating the headlines with their news and products these days, consumers could always rely on B&N's e-readers and tablets to get real value for their money. Those of you who own a NOOK Touch know what a great e-reader it is. We like the fact that it can be hacked to run games and all kinds of apps. Take the below video for instance. It shows the e-reader running Quake III.
The game does not work perfectly. The NOOK Touch has some limitations considering that it is just an e-reader. But hacking NOOKs is always a lot of fun.
Disclaimer:
Our articles may contain affiliate links. Please read our disclaimer on how we fund this site. As an Amazon Associate, we earn from qualifying purchases.